Ingredients
olive oil

osso buco (approximately 1.3kg)
pancetta, rind removed and chopped finely
leek, trimmed chopped finely
small carrots, peeled and diced
stalks celery, chopped finely
cloves garlic, chopped finely
roughly chopped rosemary
red wine
tomato passata
brown sugar
Potato mash, to serve
For the Gremolata (optional)

1 clove garlic, chopped finely
2 tablespoons fresh parsley leaves
1 tablespoon fresh oregano leaves
2 teaspoons finely grated lemon rind
We used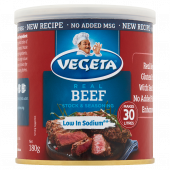 Vegeta Beef Stock Powder
Preparation
For this recipe you only need imagination!
Simple 4 Persons210 min
1

Add oil to a large cast iron casserole. Sear meat on high heat for a few minutes on each side; remove meat from pan and set aside.

2

Add pancetta, leek, carrot, celery, garlic and rosemary to the pan. Stir over medium heat until golden; add wine to deglaze pan. Cook for a few minutes until wine is reduced by half; add tomato passata, brown sugar, Vegeta Beef Stock Powder and stir. Return meat to pan and add enough water to just cover meat. Bring to the boil, then reduce heat to a low simmer. Cover pan, leaving lid slightly ajar and simmer on low heat for 2-3 hours or until the meat is almost falling off the bone.

3

Return meat to the sauce in the casserole for 5 minutes. Serve Osso Bucco with mash, the reduced sauce and optional Gremolata.
Advice
For the Gremolata Combine ingredients in a bowl.